Best Soft Plastic Baits for Bass Fishing at Cabela's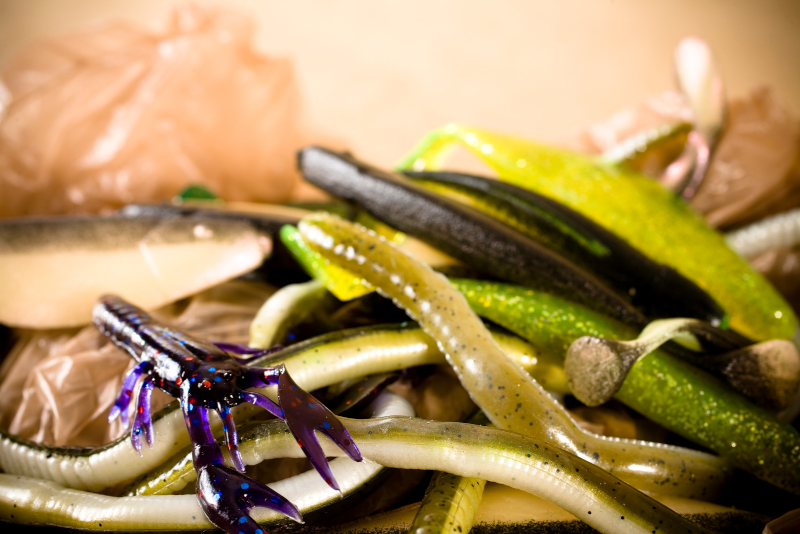 Hey there, angling enthusiasts! If you're as hooked on bass fishing as I am, then you know the importance of having the right lures in your tackle box. When it comes to enticing those elusive bass, soft plastic lures are an angler's best friend.
In this article, we'll dive into the world of soft plastics and discover the best rated worms, beavers, creatures, craws, jerkbaits, and swimbaits. For each type, I have personally chosen a the best rated soft plastic baits from Cabela's and highlighted some of their characteristics, strengths and weaknesses.
So, grab your rod, buckle up, and let's explore the exciting world of these fantastic lures. We'll even mention a couple of popular brands like Berkley, Strike King, Yamamoto, and Zoom that have anglers raving. Get ready to level up your bass fishing game!
Table of Contents
In this section, let's explore one of bass fishing's all-time classics—the mighty plastic worm. Now, if there's one lure that has truly stood the test of time and consistently hooked those elusive bass, it's the trusty plastic worm. It's got this uncanny lifelike action that bass just can't resist!
Whether you're a seasoned pro or just starting out, get ready to discover the top plastic worms available today. We'll break down their unique features, highlight the advantages, and hey, we'll even spill the beans on a few potential drawbacks. So, let's get ready to choose the best rated plastic worm that'll help you reel in those monster bass on your next fishing adventure!
The category of plastic worms was a difficult one for me. There are lots of companies, shapes, sizes, colors, and other features that challenged me to find the best of each type of plastic worm. However, the list that I chose were chosend for a specific reason and I think you'll agree with my picks.
Yamamoto Baits 5" Senko
---
Zoom Magnum II Worm
---
Zoom Finesse Worm
---
---
Now, let's talk about one of the most versatile and enticing categories of soft plastic lures in bass fishing: creatures baits. These little monsters are designed to imitate a wide range of creatures that bass love to prey upon. With their unique shapes, multiple appendages, and lifelike details, creature baits are a go-to choice for enticing strikes from even the most finicky bass.
Whether you're flipping heavy cover, punching through vegetation, or working submerged structure, creature baits excel at triggering aggressive strikes. Their tantalizing action and realistic profiles make them irresistible to bass, giving you a shot at reeling in the big ones. So, get ready to unleash the beast and see how creature baits can elevate your bass fishing game to a whole new level.
This was a tough category of soft baits for me. There are lots of companies that make all kinds of creatures. I found it very difficult to choose the best baits of their kind, but I feel that this is a solid list of creature baits with great reviews.
Berkley PowerBait Pit Boss
---
Zoom Baby Brush Hog
---
Strike King Rage Tail Space Monkey Soft Baits
---
Yamamoto Baits Kreature
---
---
Get ready to crank up the bass action with the mighty crawfish baits! These little crustacean-inspired lures are a staple in any angler's tackle box. With their lifelike pinchers, wavy legs, and textured bodies, crawfish baits perfectly mimic the natural movements of these underwater delicacies.
Whether you're targeting bass in rocky areas, weed beds, or around submerged structures, crawfish baits excel at drawing strikes. Just drag them along the bottom or hop them gently, and watch as bass pounce on these irresistible snacks. So, gear up and let's dive into the world of crawfish baits, where big bass can't resist the temptation to feast!
YUM CrawBug
---
Zoom Magnum Ultra-Vibe Speed Craw
---
Strike King Rage Tail Chunk
---
Culprit Incredi-Craw
---
---
Are you ready to add some extra finesse and excitement to your bass fishing arsenal? Look no further than soft plastics jerkbaits! These versatile lures are designed to mimic injured baitfish, creating irresistible darting and erratic movements in the water.
Whether you're fishing in freshwater lakes, rivers, or even saltwater estuaries, soft plastics jerkbaits can be the secret weapon you need to entice aggressive strikes from hungry bass. With their soft, lifelike bodies and realistic finishes, these baits are sure to grab the attention of even the most finicky bass. So, get ready to twitch, pause, and reel in some impressive catches with the help of soft plastics jerkbaits!
The jerkbaits category was a little easier for me to choose the right baits. These are all highly rated and best in their own ways.
Strike King KVD Perfect Plastics Blade Minnow
---
Lunker City Slug-Go
---
Berkley PowerBait Minnow
---
Zoom Magnum Super Fluke
---
---
Get ready to make a big splash with your bass fishing game! Soft plastics swimbaits are here to take your angling experience to the next level. These lifelike lures are designed to mimic the natural swimming action of baitfish, drawing the attention of hungry bass and triggering aggressive strikes.
Whether you're targeting trophy largemouth in freshwater lakes or testing your skills against hard-fighting stripers in saltwater, soft plastics swimbaits are the go-to choice for avid bass anglers. With their realistic detailing, vibrant colors, and enticing movement, these baits are sure to lure in the biggest and most elusive bass.
YUM Money Minnow
---
Berkley PowerBait Power Swimmer
---
Creme Reel Scremer Swimbait
---
Yamamoto Baits Zako Swimbait
---
---
Conclusion
There are a lot of good soft plastic baits out there and different companies make them with their own characteristics that stand out from the rest. We've explored plastic worms, creature baits, craws, jerkbaits, and swimbaits, comparing the highlighting the pros and cons for several baits in each category. I hope this article has helped you narrow the search and you have found the right bait for you.